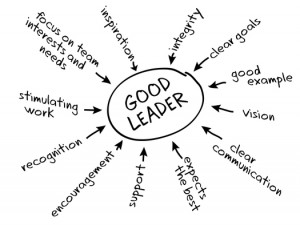 Luis Gallardo, Author of Brands & Rousers.The Holistic System to Foster High-Performing Businesses, Brands and Careers.
Previously posted @UpStart
To lead individuals, companies, and a marketplace, you want to be a rouser. Rousers believe in empowering. They understand the human need for psychological fulfillment. They have that "special something" that bestows upon them the ability to motivate people.
Think about the job situations you've been in with bosses who led well and those who did not. What characteristics did you see that you want to mimic? What characteristics do you want to avoid?
Make the decision to help others grow, while jointly producing results. In other words, be a rouser. They are directly linked to positive results. As a rouser, you have the ability to:
Improve revenues;
Help you and your company's reputations;
Strengthen relationships with stakeholders;
Make organizations flexible and adaptable to change, and
Motivate.
It sounds pretty great, doesn't it?
Think beyond yourself
Martha Maznevski, professor of organizational behavior at IMD business school, highlights this point: "The leader's role is to create direction and meaning and to encourage autonomy. This requires clarity, curiosity, and courage."
When it comes to motivation, more often than not, we think about what motivates us personally. But, as a rouser, it's important to remember that not everyone is motivated by the same things. While chants might motivate one person, incentives might be the right method for another.
Developments in neuroscience, brain chemistry, and behavioral psychology research are helping us understand more of what moves people. To succeed as a rouser, it's imperative that you do some of this research on a more personal scope. You need to have a genuine interest in those you are trying to motivate. When you care for people, you can make change happen.
I've worked with quite an array of personalities, many of which are rousers. I've studied their personalities and their motivational styles, and I've noticed these tendencies:
They are mindful and self-aware about who they are and what they want.
They are also interested in knowing who, exactly, the person in front of them is.
If you follow in their footsteps, you'll find ways to motivate each individual on your team. Think of this way: People produce their best results when they're happy, appreciated, and working for people they respect. By showing your dedication to your employees, they'll be more likely to give in return. That helps you, your team, and your bottom line.
Remember to modify
If you were caught in the middle of the ocean during a storm with a sick crew, would your attitude be the same as if you were in a meeting room with a new team? Most likely, it would not.
A rouser is someone with the ability to modify his/her leadership style depending on the situation, the nature of the group, and the individuals within it.
Research supports the idea that incentives are essential if we want to provoke change. Despite this, it's not uncommon for political messages, for instance, to use fear to call for change. Very often, incentives and threats can have outcomes that deviate from their intended consequences.
Rousers know the impact of threats, as well as incentives, rewards, and penalties. With this knowledge, they are able to choose the most effective method responsibly. A leader who picks the wrong tools is essentially wasting valuable money and time—their own and the team's.
Scale your vision
The reason to rouse individuals is to get them to work their best—and work together. Furthermore, a rouser has the ability to set the wheels of a business in motion so that it generates the necessary revenue and value. Strategy, structure, operations, what an organization stands for, and how it wishes to be perceived, both inside its walls, and outside, must resonate with its stakeholders.
Rousers also have the ability to impact the marketplace by attracting consumers and building customer loyalty. Tony Hsieh, CEO of Zappos.com, says this of recruitment: "We hire for attitude. The rest [skills] can be trained." As a company, Zappos' aim is to provide a superb customer experience. He has not only infused his passion and vision throughout the organization, his enthusiasm and energy spread directly to customers.
Just do it
In conclusion, to be a rouser, you must primarily do three things. First, you must invest time in actually getting to know those you're trying to motivate. Learn what drives them, and use that as a starting point to motivate them. Second, you have to modify your leadership and motivational style, depending on the situation at hand. Lastly, think big and small: you're not just aiming people, you're aiming teams and corporations, and those teams can move a marketplace.
As a rouser, people will like and admire you as a leader. They'll trust you and be motivated to perform to their fullest—and you'll be able to recognize yourself as the kind of leader you always wanted to be.
SLIDESHOW: Check out five of the biggest rousers in the business world.
Share and THAP!: