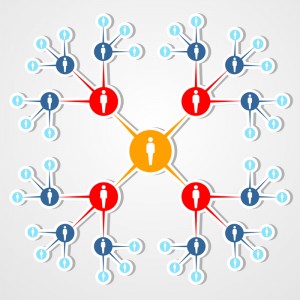 Luis Gallardo, Author of Brands & Rousers.The Holistic System to Foster High-Performing Businesses, Brands and Careers.
Previously posted @ Latin Business Today
Relationships are the cornerstone of a new era of people-to-people businesses
All business relationships, both internal and external, are interconnected. In terms of the whole company, you could no more separate the parts than you could separate a stem from a flower–the whole plant clearly needs both parts. The quality of relationships is a very real asset of the business. The learning, generation of knowledge, improvements and innovations that result from good relationships all contribute to the bottom line.
Internal relations take place between people at all levels within an organization. When there is rapport, trust and agreement between employers and employees, it improves the quality of internal relationships and increases the flow of communication.
External relations with clients, suppliers, public and governmental bodies, shareholders, influencers and the media help with creating and sharing knowledge, detecting new opportunities, innovating, improving products and reputation and building customer loyalty. Relations can be at the institutional and group level but they often operate at the individual person-to-person level as well. Relationship capital considerably increases the value of the company.
A Question of Trust
Why is trust such an interesting concept? Perhaps the answer lies with the fact that it spans both the logical and emotional aspects of human thinking and behavior. Trust flows from experience and knowledge, as well as from consistency. Nevertheless, trust is also a sense of confidence, a feeling about someone or something's ability to deliver on a promise. Any way you look at it, while we may use information and data, trust requires judgment and a leap of faith.
For success in business and other relationships, trust is imperative. With this in mind, how do we generate trust? If there is one overriding rule, it is this: trust has to be earned.
Andrew Sobel studies how to manage trusted client relationships. In his book, "Clients for Life," written with Jagdish Sheth, he offers a model built upon seven attributes. These principles are applicable to all professionals who serve clients in all fields and industries. To be trusted, effective leaders must have:
Empathy–specifically, ask great questions and listen
Selfless independence–balance dedication with detachment and objectivity
Depth as well as breadth of knowledge
Synthesis–combining ideas as well as analyzing them
Judgment that incorporates their own and their clients' values and beliefs with their clients' organizational capabilities
Conviction to communicate recommendations with belief and energy
Integrity and competence built through mutual familiarity with the client
A Trusted Advisor
A common trait of trusted advisor relationships is that the advisor places a higher value on maintaining and preserving the relationship itself than on the outcome of the current transaction. The advisor makes a substantial investment in the client, without guarantee of return, before the relationship generates any income, let alone any profit.
David H. Maister, Charles H. Green and Robert M. Galford address the subject of trust in their book, "The Trusted Advisor" (Free Press, 2001). Their research has highlighted the following key points:
It is essential to focus on the client's needs rather than on your own. In this regard, it is also important to relate to the client as an individual rather than as a job title.
A focus on problem definition and resolution is more important than technical or content mastery.
A strong competitive drive should not be aimed at competitors; instead, it should be aimed at constantly finding new ways to be of greater service to the client.
The focus should be on doing the right thing rather than on achieving specific outcomes. In other words, the means are as important as the end result.
You should do the right thing for the client rather than be led by your own organization's rewards and dynamics.
View methodologies, models, techniques and business processes as a means to an end–if they prove effective for a client, keep them, but discard them if they don't.
Always value the quality of contact with clients–successful client relationships depend on the accumulation of high-quality contacts.
Dedication to helping clients with their issues lies at the core of a good relationship–the client will know if this is genuine and they will value it when it is.
A quote from Ben Bryan sums it up nicely: "Developing strong relationships offers a stream of benefits and opportunities. When we bond with others, we create trust, we are more effective in what we do, and we form ties that transcend boundaries such as geography, culture, and personal differences. These linkages forge loyalty, commitment, and high performance. They create value and protect us, which is especially helpful in times of crisis."
Overcoming Adversity
One final point to note about relationships is that even the most successful can hit a rough patch – after all, no one is perfect and all relationships, even the most successful, have their moments of tension or difficulty.
What matters is how these challenges or concerns are addressed and, more generally, how readily companies learn about the best way to improve the relationship. This requires that companies evaluate their capabilities and address any weaknesses–the skill of resilience, which is the focus for the next article.
Share and THAP!: