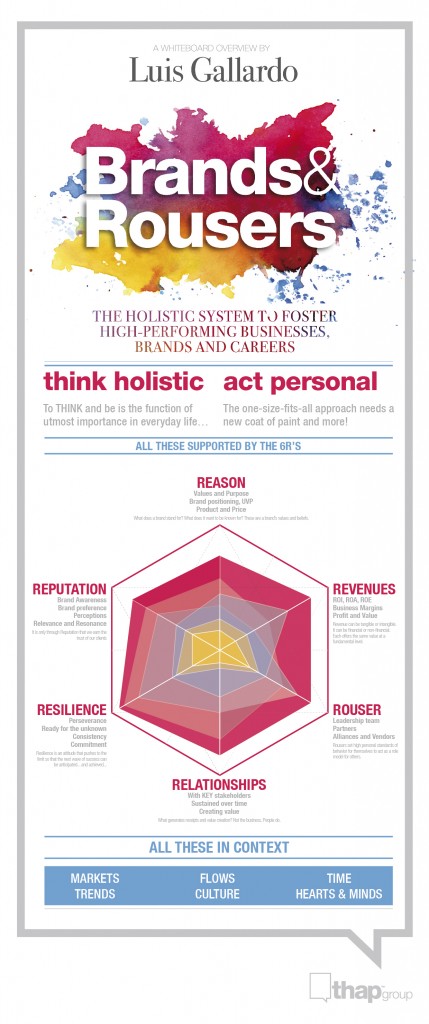 Luis Gallardo expertly guides the reader in understanding the complexity of today's corporate world and lucidly highlights what the roads to successful and high performance leadership involve.
The author's broad views, based on his solid knowledge as a longstanding business expert, make his book a must read for all leaders.  He has made a unique and critical contribution to both the theory and practice of leadership.
George Kohlrieser, Professor of Leadership and Organizational Behavior at IMD and internationally bestselling author of Hostage at the Table and Care to Dare.
——
Building high-performing brands in today's ever changing world becomes a huge task for global brands. Luis Gallardo has been able to develop and explain a really helpful and powerful framework to foster winning multinational businesses. A must read!
Alfredo Gangotena is Global CMO at MasterCard Worldwide
——
You've probably heard the saying "think globally, act locally." This popular phrase encourages people to consider the impact on the entire world when making choices while at the same time acknowledging that real change starts from small acts within local communities.
Luis Gallardo takes "think globally, act locally" one step further with his own point of view – "think holistic, act personal."  This philosophy suggests that there are two elements in a successful business: taking actions that promote sustained profit and growth and addressing your customers' personal needs so that your message is relevant and timely. In other words: for your business to succeed, you must simultaneously think about things in the largest way possible and in the smallest way possible.
To fulfill the "think holistic act personal" creed, we must also remember to act personal in ways that bring meaning to peoples' lives. Not only will it help your business, but it might also just start a revolution.
Jennifer Aaker is the General Atlantic Professor of Marketing at Stanford University's Graduate School of Business. She is the co-author, together with Andy Smith, of The Dragonfly Effect.
——
Reputation building and Revenue generation here go hand in hand. It is widely accepted today that your best revenue base multiplier is your current customer base. Really perform for them and they'll reward you with more and they'll lead you to other customers by recommending you. So, revenue generating well from your current base will strengthen your reputation and grow revenues. I see them both as indispensable tools for the contemporary manager as Luis Gallardo does in his book. A must read!
Seán Meehan is the Martin Hilti Professor of Marketing and Change Management at IMD in Lausanne, Switzerland. and bestselling author of "Beyond the Familiar" and "Simply Better".
——
Despite the challenges of 2011, let us not forget that we have as many, if not more, opportunities ahead of us. We have many choices.  Perhaps the biggest test we face is in developing the capacity to look beyond short-term pressures to make sense of change – and to take action today.  Looking ahead, it will not be business as usual, or society as usual.  We will have to question how we think, work together and act to seize opportunities and address challenges.  We need a point of view on the future, a way to move from data overload to informed action.  Executives today spend too much time looking at the world from inside their business and responding to short-term pressures. Understanding our current and future reality requires inverting this lens and looking from the outside-in. Frameworks such as the one developed by Luis Gallardo help business managers to make that sense of change.
Tracey Keys, Director of Strategy Dynamics Global Limited, publisher of www.globaltrends.com
——
Those businesses driven by a higher ideal or a higher purpose, what Luis Gallardo calls Reason in his book, not only outperformed their competitors by a wide margin, but often created entirely new sectors, and businesses which experienced rapid and sustainable growth. This makes a compelling case for those businesses that don't simply treat its brand as part of the marketing or public relations department, but espouse its core values to all stakeholders, both internal and external.
Tim Wragg is CEO of Millward Brown in Europe
——
In life, as it is in business, it is not enough seen the big picture, it is about understanding the full picture. Brands & Rousers, the book written by Luis Gallardo, is all about interconnections and their meaning, it is about multi-dimensions and dynamic systems. Really helpful! if managing a multinational brand such as Tetra Pak.
Elisa Nistri is Marketing Director of Tetra Pak in Italy
——
At the core of Act Personal, a key element in Luis Gallardo's Brands & Rousers, is the notion that the individual matters more than national boundaries. Human behavior is not restricted or defined by geographical borders, which is why Act Local no longer makes sense. Perhaps it never did. The Act Personal credo highlights that effective marketing must be grounded in a profound understanding of individuals. Frankly, we must understand people at a level they are not accustomed to or even capable of understanding themselves. Put another way, we must learn what is the hardest to know: Why people do what they do, and say what they say?
Philip Granof is CEO of Protobrand
——
Think Holistic, Act Personal, the platform created by Luis, is a powerful concept. At its best, brand is a key tool to make people think holistically, but you also need to act personally and tailor the
message content and voice to the audience. Thinking holistically means capturing synergies across the organization and thinking outside in: a strategically well-defined brand is a rallying point for all across the organization and a filter to bring in an outside perspective to all decisions. Acting personal means considering people and the human element in all you do. A brand platform should be all-encompassing but also expressed and messaged to be relevant to the interests and needs of individual audiences.
In order to think holistically, you need a framework, and in order to act personal, you need freedom. These terms are not as opposed as they first may seem, and areessential elements in the process of building a successful global brand.
Brian Rafferty is Global Director, Customer Insights at Siegel + Gale
——
Luis Gallardo has a rare and special understanding of how successful brands are built. He combines deep understanding of business issues with practical, action-oriented, yet highly creative strategies that bring transformational results. This book is essential reading for anyone looking to make headway in today's business world.
Jim Prior is CEO of The Partners 
——
Do you have what it takes? Do you have the competence and leadership to deal with our ever increasing challenges? – challenges to our business and how to sustain the business and brand long term?
In "Brands and Rousers" Luis Gallardo shares some of his thoughts and experiences on how to create sustainable value creation by acting personally [while thinking] holistically. Having worked with one of the world's leading brands for the past 10 years Luis Gallardo certainly shares important insights and triggers very relevant thinking for all – regardless of industry and type of brand. To deal with change and to create sustainable value you need to manage and nurture your brand and develop the business model so you can meet future demand – the only way to do this is through continuous learning and striving when dealomg with reality – "Brands and Rousers" is a great way to learn…
Patrik Lindvall is Managing Director of Inter IKEA Distribution Far East
——
Share and THAP!: