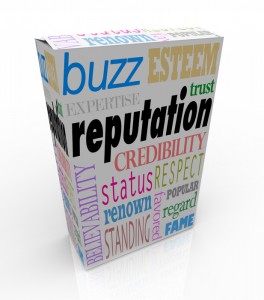 Luis Gallardo, Author of Brands & Rousers.The Holistic System to Foster High-Performing Businesses, Brands and Careers.
Previously posted @ Latin Business Today
Reputation is about managing the perceptions that define reality
If you have any doubt about just how critical reputation is, think for a moment about the horrendous mistakes made by Enron, Lehman Brothers and WorldComm, and what those errors did to the reputations of these giant firms.
When awareness of their wrongdoings reached critical mass, it sent their reputations tumbling. Don't look for these names among stable, progressive businesses–they're gone. The companies demonstrate how the six Rs intersect and affect each other–with the certainty of dominoes falling: once one is set off, it is not long before the others follow.
This is particularly evident with our next R—reputation. Its impact is formidable: a company's fortune can rise meteorically or be obliterated. This may sound extreme but these scenarios always remain possibilities for any company that takes its eye off the ball. It is understandable how this situation can happen.
Day-to-day, reputation management is one activity among many, and it can be easy to overlook just how much reputation contributes to your organization and how what you do, each moment, every day, affects your company's image, brand and share price.
This is never more important than in these first decades of the 21st century, when news of your company can travel worldwide in a matter of moments.
Internal and External Stakeholders
Reputation is an issue that applies both internally and externally. What employees think of the company influences their level of motivation, engagement and commitment. Externally, your reputation among customers, suppliers, retailers, the media, government and public bodies will all affect both short- and long-term profitability.
Factors that come into play include: people's perception of your products and services, the company's perceived trajectory (whether it is felt to be going in the right direction), word-of-mouth, as well as other sources of influence and information.
An excellent reputation provides the organization with considerable competitive advantage as it strongly influences customers' preferences. In addition, a strong reputation increases the value of shares and the firm's appeal to investors.
Although a reputation is fairly consistent, an organization can have different reputations with different segments or groups. These include:
Employees—The reputation or "employer brand" that the company has with its own people greatly influences their productivity. In addition, employees with a positive view of the company have much greater confidence in the future, which in turn improves employee retention. Of course the conditions of work, compensation and recognition are all important in this regard, but other factors matter too–such as the desire to work for a company that is valued by others outside the organization and, increasingly, that it has a sound reputation for corporate social responsibility.
Clients—If clients value a company, it increases the likelihood of retaining them as customers for existing products, and it gives the opportunity to sell further products. Also, satisfied customers are more likely to recommend your company to others. Reputation is particularly important in the service industry.
Investors—Reputation is keenly watched by current and prospective investors. They will be more willing to invest in a company that has their confidence, and this is invariably because of a strong reputation in several areas, including popularity among customers and clients, vision, stability, appropriate attitude to risk, integrity and sound leadership.
Opinion leaders—In the words of the legendary investor Warren Buffett, "It takes 20 years to build a reputation and five minutes to ruin it. If you think about that, you'll do things differently." This is never truer than in the case of opinion formers and influencers. Given their powerful position to influence others, it is essential that an organization maintains a good reputation with them.
The Media Age
Let's face it: we live in the age of new media, where public conversations bring together people from all over the globe. Thanks to the Internet, anyone anywhere can create a buzz that ushers in new heroes or ruins an organization's reputation in a matter of moments.
Governments, corporations and individuals can be exposed in online chats by more than 1 billion Internet users. That's downright impressive. It is one of the most powerful shapers of public perception. Crowd-sourcing or open sourcing, social networking and Web 2.0 prove that information can become more valuable as more people use it. It is a force to be reckoned with; it is a force that all business strategies need to engage with.
These tips can help you navigate your online reputation:
Embrace the online and social channels to build reputations and brand
Appoint full-time professionals to think about, monitor and act on digital activities, in real time
Communicate, communicate, communicate to proactively manage reputation
Advocate, support, observe and engage in multiple streams to deliver strategy
Stay ahead of online trends and conversations by incorporating this medium at the core level
"Reputation is only a candle, of wavering and uncertain flame, and easily blown out, but it is the light by which the world looks for and finds merit," said James Russell Lowell.
The Value of Relationships
As we have seen, reputation, and in particular, brands, are the result of everything that happens both internally and externally. They connect with the outside world and need to be managed carefully, constantly and assiduously. The same is true of the next R—relationships, which is the focus for the next article.
Share and THAP!: