You are required to login to view this page.
Últimos posts

April 11th, 2011

Mantener el rumbo, en momentos de oportunidades y retos, es esencial para mejorar de manera cont

[...]

April 11th, 2011

En los últimos años, el concepto de REPUTACIÓN ha sido objeto de atención e interés generalizado

[...]
Suscribete para recibir este blog en tu email.
(no compartiremos tu información)


¿Tienes alguna sugerencia? Mándanos un email.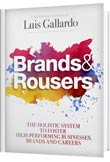 El principio número 1 que impulsa el crecimiento de las marcas de mayor éxito.
ARTÍCULOS/CASOS DE ESTUDIO
Ejemplos reales. Comentarios de directivos expertos en el entorno económico global de hoy en día. Descubre cómo muchas de las compañías líderes a nivel mundial ya están usando la metodología de las 6 Rs (Rouser, Relationships, Reputation, Revenue, Reason y Resilience) de THAP.
ver sección perspectivas e ideas »